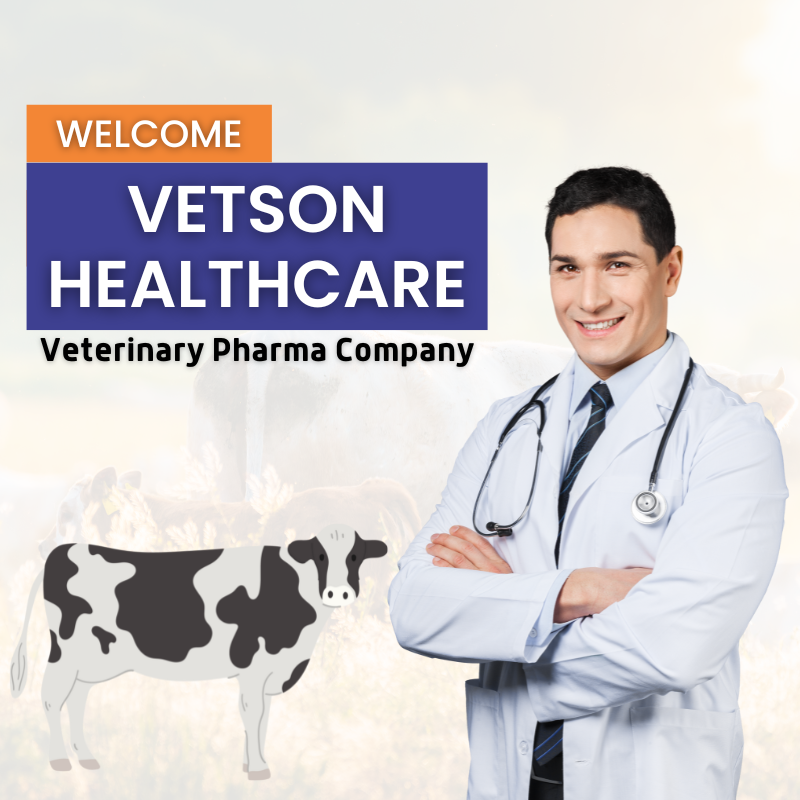 Top PCD Pharma Company - Vetson Healthcare
We offer PCD Veterinary franchise in India, veterinary Franchise in India, Veterinary Pharma Franchise in India, Feed Supplements Franchise in India, Veterinary PCD all over India on monopoly basis. We are the manufacturers of Veterinary Feed supplements and veterinary medicines.
We are a fast growing Indian veterinary Pharmaceuticals Company engaged in marketing a broad range of veterinary pharmaceuticals globally. We believe that our competitive advantage in the domestic market lies in our Established presence in all major therapeutic areas. One can start a setup with veterinary PCD pharma franchise in India with us.
We have many more Products and are going to make a presence in all major veterinary therapeutic areas. We have a large variety and range of products for your domestic cattles with us that you can check in the product section. There you can find whatever is suitable for your pet according to their needs and requirements. Our aim is to develop a broad portfolio of innovative pharmaceutical products.
How to choose a Pharma Franchise Company
Drug License – To try to to business within the pharmaceutical business, you need to have a drug license. A drug license could be a legal allow issued by the govt that permits you to have interaction in some quite drug-related business. Selection of pharmaceutical Company– Conduct thorough analysis on pharmaceutical company corporations with open positions. Examine the company's history and market valuation. Request a product list, deals, and listing with internet rate and MRP from the relevant company. Choose a Product – Select things supported client and shopper demand. it'll greatly assist within the choice of products supported client necessities. Investment– A pharmaceutical Franchise Company wants a affordable investment, however you need to be ready for any contingency.
NEED A VETERINARY PHARMA FRANCHISE ?
Call Now and Get Top Quality Veterinary Products at Best Prices