Why Choose Vetson Healthcare
At Vetson Healthcare, we adhere to both quality assurance and quality control procedures, so quality is never compromised. Our company's priorities are product quality as well as packaging as we have our
own Manufacturing
of Vetson Healthcare. Every product undergoes rigorous quality testing by our quality inspection teams in an effort to remove any flaws before shipping. Being in our
own third party manufacturing
company of veterinary Products, we have accepted responsibility for offering top-notch goods and services. Look at the quality standards we adhere to:
Quality measures help us to mitigate the shortages of veterinary products in future as it is possible to predict the needs of the customers.
The safety guidelines followed by us helps to identify potential risks, and ensures that the products are safe, effective, pure and durable.
Our products are designed by keeping in mind the WHO and GMP guidelines laid down by the veterinary pharma association.
Own spacious warehousing facility helps us to store the products in bulk quantity and also safely at temperature accordingly.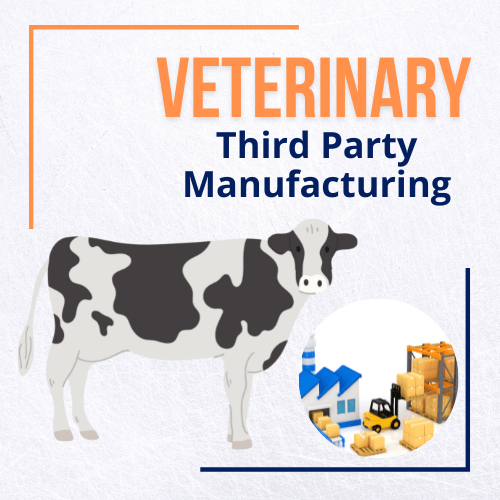 Vetson Healthcare- Veterinary Third Party Manufacturng
Vetson Healthcare is the best Third Party Manufacturing company dealing with Veterinary range of Pharmaceutical Products. We have our own Manufacturing of complate range of veterinary Products. At Vetson Healthcare, we adhere to both quality assurance and quality control procedures, so quality is never compromised.
Our company's priorities are product quality as well as packaging. Every product undergoes rigorous quality testing by our quality inspection teams in an effort to remove any flaws before shipping. Chemical testing facilities kept on-site at our facilities looked at the product's components and the materials used in its production. As a well-known third party manufacturing company, we have accepted responsibility for manufacturing top-notch goods and services.
Contact Vetson Healthcare if you want to get your products customize for your vets & wannt to start the veterinary business with our own Third Party Manufacturing Plant.
NEED A THIRD PARTY MANUFACTURING?
Call Now and Get Top Quality Veterinary Products at Best Prices